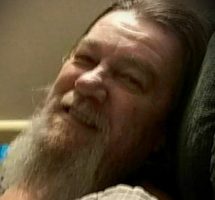 Rick W. Wininger, 61, of Vincennes, IN, passed away July 25, 2020, at Willow Manor.
Rick had worked in construction.
Born December 1, 1958, in Crawfordsville, IN, he was the son of Leroy and Mary (Smith) Wininger. His father, and a sister, Sandra Kay Wininger preceded him.
Surviving is his mother, Mary Wininger of Vincennes, IN; his children, Sheena Ham and her husband, Justin, of Flat Rock, IL, Christina Sanson and her husband, Jerry, of West Virginia, Samantha Samaroo of Clarksville, TN, and Amanda Samaroo of Washington, IN; his brother, Steve Wininger and his wife, Tedo, of Vincennes, IN; his sisters, Karen Wininger, of Vincennes, IN, Bev Cummings and her husband, Richard, of Vincennes, IN, and Kimberly Parks and her husband, Christopher, of Washington, IN; his grandchildren, Triston Hamm, Paxton Hamm, Rachel Sanson, John Sanson, Rhiley Smith, Kylie Smith, Zylar Mehrer, Gloria Sanson, and Samantha Sanson; and his great-grandson, Zane Sanson.
Friends may gather at Memorial Park Cemetery on Wednesday, at 1:30. A graveside service will begin at 2:00 on Wednesday. Goodwin-Sievers Funeral Home is assisting with the arrangements.
Online condolences may be sent to the family through goodwin-sievers .com.