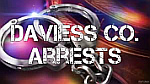 Washington Police arrested a Washington woman Tuesday on a warrant for Possession of Methamphetamine and a Hypodermic Syringe.
29-year-old Michelle Breeden is being held on $2,500 bond in the Daviess County Security Center.
Daviess County Sheriff's deputies arrested 19-year-old Karon Spivey of Indianapolis Tuesday on a warrant for Failure to Appear in Court on a charge of Possession of Marijuana.
Spivey was released from jail on $2,000 bond.
Washington Police arrested 21-year-old Kiana Boone of Washington Tuesday for Operating While Never Receiving a License,
Boone is being held without bond.