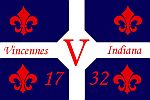 The Vincennes Board of Works yesterday approved a contract with Bicknell's Mullins Supply to tear down eleven blighted homes in Vincennes.
The demolition is the last part of work under the city's current Blight Elimination grant.
Mullins got the contract for all eleven houses for 97-thousand dollars.
Of the eleven, five of them are in the 100-block of West Jefferson.
The others include one house each on Perry, Prairie, Broadway, State, Busseron, and North 12th.