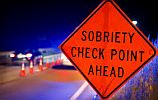 The Indiana State Police Jasper District will conduct a sobriety checkpoint in Dubois County on Friday.
And, the Evansville post will set up a sobriety checkpoint Friday night in Posey County.
The exact times and locations are not being released.
Motorists who are not impaired can expect a short delay of 2-3 minutes while passing through the checkpoints.
The checkpoints are part of the 'Operation Pullover' campaign targeting aggressive and dangerous driving.
The campaign runs through March 24th.