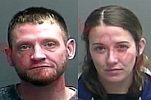 Vincennes Police arrested two suspects Thursday evening in a carjacking/armed robbery Tuesday afternoon in the 200 block of Broadway.
Vincennes Police, assisted by the Knox County Sheriff's Office and U.S. Marshal Service, arrested 38-year-old Ricky Brochin the Third of Bruceville and 33-year-old Tera Robinson of Decker in the parking lot of the Vincennes Plaza around 6:00 PM Thursday.
Police Chief Dusty Luking says Brochin used a firearm to gain control of the victim's vehicle and fled the area.
The abandoned stolen car was recovered late Wednesday morning near the intersection of Swartzel Avenue and Day Street.
Brochin is being held under $50,000 bond in the Knox County Jail on charges of Armed Robbery and Resisting Law Enforcement.
Robinson is facing a charge of Conspiracy to Commit Armed Robbery.
Her bond is also set at $50,000.