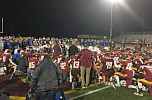 The Freedom from Religion Foundation has filed a complaint against the South Gibson School Corporation over a post-game prayer between coaches and players following a November 2nd football game.
The Princeton Daily Clarion reports the group claims the prayer violated student's First Amendment rights.
The Clarion reports the non-profit organization asked the school corporation to open an investigation and take the proper action.
The matter has been turned over to the school corporation's legal counselor.