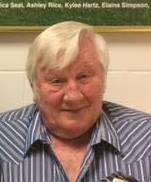 Alvin Leon Corbin 70, of Washington passed on Tuesday, November 7, 2017 in Evansville, IN. 
Alvin was born in Linton, IN to the late Alvin Corbin and Hildred (Campbell) Corbin-Kent.  Alvin graduated from Eastern Greene High School in 1965.  He went on to serve his country fearlessly in the U.S. Army during Vietnam and was awarded a Purple Heart in 1966. He retired from RCA and later retired from Byers Electric in Bloomfield, IN.  He also served with the Solsberry Fire Department for many years. Alvin was also member of the local American Legion and was of Christian faith. 
Alvin leaves behind his loving companion of 25 years, Mary Jones; a brother, Lane Corbin (Shirley); step-daughter, Rebecca Johnson (David); half-sisters, Elaine Brown and Aletta Royer; half-brother, Mark Corbin; step-sister, Carolyn Barger; step-brother, Ted Kent; step-grandchildren, Brittany Johnson, Jacob White, Haley Johnson; four step-great-grandchildren; and also several nieces and nephews.
He was preceded in death by his parents; one brother, Leonard Corbin; step-son, Ernie Jones; two step-grand-children, Ashley and Aaron Johnson.
Family and friends will gather in Gill Funeral Home, 308 E. Walnut St. Washington, IN 47501 on Sunday, November 12, 2017 from 4:00 P.M. until 8:00 P.M. A funeral service will be held also at the funeral home on Monday, November 13, 2017 at 1:00 P.M. with visitation one hour prior. Burial will follow in Oakgrove Cemetery with Military Honors. Online condolences may be made at www.gillsince1872.com